Online art by {{name}}: {{#if externalPageUrl}}
{{#each sites}} {{/each}}

Dr. David Annal (1934-2008) was the original author and designer of Tessellations.org. An excellent diagnostic physician, he was well known for his sense of humor and ability to prod people into thinking more clearly and creatively. His three major hobbies were his tessellation art, his cats and dogs, and his membership in a computer enthusiasts' club.

His logical and inquiring mind, which made him a practical doctor, also led him to meld computers into his wide range of interests. His interest in the works of J.S. Bach led to learning about the math behind the music, which led him to the math of fractals, which led to the world of tessellations.

(The above is summarized from his computer club obituary and his bio on Tessellations.org.)

The president of Japan Tessellation Design Association.

The first exhibition of his tessellations was on his web site in 1993, very early era of world wide web. His elephant design won first prize in the first tessellation contest on the web held by World of Escher in 1994. His wild boar design was named one of the Best Things in Art Online by BYTE Magazine in 1995. His tessellation software 'Escher Paint Contest' won the first Java language contest by Sun Microsystems, Inc in 1995.

In 1998, at the Escher Congress in Rome, Yoshiaki met the legendary tessellation artist Makoto Nakamura, and they founded the Japan Tessellation Design Association. The association provides workshops, exhibitions, and publications on tessellations.

Recent workshop: T3 puzzle workshop.

Recent exhibition: Japan Tessellation Design - its progress and prospects.

Recent publication: Enjoy mathematical puzzles with M. C. Escher.

I am an artist without mathematical background, although I now consider myself a mathematician more than an artist due to my exposure to Escher.

My introduction to Escher was through browsing (in about 1983) a Reader's Digest magazine of March 1981. This contained a brief article on Escher titled "The Artist Who Aims to Tease" by Greg Keeton, with a handful of Escher's prints. Amongst these was Day and Night, which intrigued me, and I wondered how Escher did this highly unusual artwork. However, not understanding how to go about such matters, I put it aside. Show more...

He discovered M. C. Escher in the library of Felix V. Festa Junior High School, where the card in his favorite Escher book contained his name repeatedly (without other names) for the two years he attended. Stupidly, he guessed that the grayscale etchings were pencil sketches, and so he threw himself into a 30-year period in which he used pencils in preference to all other art tools. He did not develop a strong interest in color or painting until hospitalized for several months in Hiroshima in the year 2000, when a friend gifted him with water-color pencils and a water "fude" (brush pen). Show more...

(The above is summarized from his bio on Tessellations.org.)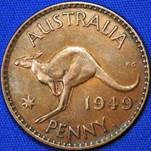 As a child of 5 in 1949 I was given a shiny, brand-new Australian penny for my tram fare home, and I fell in love with the splendid image of Australia's national animal, our beautiful Kangaroo. It is truly Australia's icon, and having raised adorable orphan joeys myself, my love for Kangaroos has no bounds. Yes that's an awful pun (
), but it's true too.
Forward 20 years to 1969 — I first saw Escher's Sky and Water tessellation, and I was astounded!
What magic was this! Lifelike ducks and fishes, perfectly concatenating in an infinitely repeatable pattern, with no waste space and no overlaps! In all history, no-one until Escher had ever created such patterns! How could that be? Show more...
Human and animal figures, perfectly nested into each other, complex and identical mosaic pieces filling the surface of prints. Tessellations pushed far beyond their traditional limits; all symmetries explored. A nontraditional field, there are only a handful of women around the globe that have tackled tessellations. Learning the craft by hand and screen printing have been replaced with tablet, and giclée prints. An explosion of artwork, fuelled by a connection to an unending flow of creativity, intuition, unusual perception, with a touch of French comic books. "If I can make you tilt your head, and smirk, I've done my job as a tessellation artist."
I also teach classes on learning tessellations.
Andrew Crompton is an architect and lecturer who has been drawing tilings since 1985.
He started his website in 1997 in an effort to find everyone in the world who shared this interest, last updating it in 2009 when 54 people had come forward.
His Lifelike Tessellations paper shows abstract examples of the isohedral tessellation types which have no straight edges. But he adds a slight correction—IH15 was mistakenly included as it contains two straight edges, so there should be 48 tilings rather than 49.
As a young child I developed a love of dinosaurs, drawing, painting and visiting museums and art galleries. I joined a local art group in my early teens, exhibiting mostly landscapes and gaining regular sales and commissions.
It was during my first year of teaching in the mid 1980s that I taught some basic tessellation to children and began to experiment myself, eventually setting myself the task of tessellating a Stegosaurus. After unexpectedly succeeding I then attempted several other creatures and managed to complete a small number of finished tessellation works, After exhibiting an early Brontosaurus tessellation in an 'Artists in Essex' exhibition I was invited to exhibit some more dinosaur tessellations for a separate exhibition at the Minories, Colchester. Several years later, with a little more free time after a change of career, I developed some more designs and exhibited at the Naze tower, Walton on the Naze. Show more...
Maurits Cornelis Escher (1898-1972) was the pioneer of tessellation art. Without ever seeing a tessellation of recognizable figures he drew 137 of his own, independently working out the structures for 28 of the 35 symmetries shown on this site.
Early on, Escher was fascinated by the intricate tile works in the Alhambra (Granada, Spain),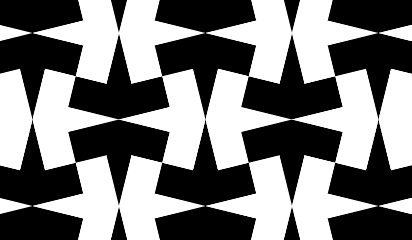 discovering fresh symmetries like this one, which inspired one of his first drawings. But he noted that the Alhambra artists never used realistic motifs, or asymmetric tiles, both of which interested him greatly. Show more...
Tatsuo Horiuchi posts tessellations regularly to Instagram and Pinterest, and weekly to his blog.
I am a freelance illustrator living in New Jersey. Most of my work consists of creature and character design, storyboards and animatics, logo design, and illustration for books, advertising, and table top role-playing games. My numerous explorations into tessellations have, so far, just been personal side projects.
All of my current tessellations were created using Tessella, an outdated add-on that can only be used on long outdated versions of Adobe Illustrator. I use Photoshop to paint in details and textures onto the tiles created in Illustrator. The whole process, using various means to even get the outdated software to partially function is extremely clunky and prone to crashes, so it's a small victory to be able show a finished piece.
Jos Leys (1952-?) is a retired mechanical engineer who has always had a keen interest in anything mathematical. As an admirer of M.C. Escher he tried to produce tesselations himself using the Ultrafractal software. His other interests are 3D fractals, and producing mathematical images and animations using the PovRay software. Jos lives in Belgium.
Hidekazu Nomura posted 61 fine tessellations on Instagram over four months in 2019, using 20 different tessellation symmetries.
Any contact information would be greatly appreciated — please send an email to [email protected].
John A. L. Osborn (1929-2017) coined the term amphography for the process of creating a figurative tile — "drawing, with each side of one's line, a different part of the same figure" (from the Greek amph, "both", and graph, "to draw"). He writes that this "double-duty" outline differs radically from the ordinary sort of outline that merely divides figure from ground. With amphography there is no ground — only the same figure in multiple interlocking copies.
He worked with pencil and paper only (not a computer), focusing on a particular subject. Sometimes he was surprised when the final geometry wasn't the one he started with, as when "an initial quadrilateral basis became hexagonal in the finished tiling". He studied ceramics and made actual tiles for some of his artworks, like Little Miss Muffet.
In addition to his gallery of tessellation art he worked extensively on variable tilings. He created two tile sets that can be assembled in infinitely many ways — one with 10 bat and lizard figures and one with 8 beetle figures — with many example tilings.
See also his biography and obituary.
My educational background is in Neuroscience, but I've always been drawn to creative and artistic pursuits. I love making things and solving puzzles. Tessellation design is both!
I've recently been trying to work my designs into more minimalist formats that feature only a few tiles and obscure the underlying repetition. My hope is that this will make the discovery of the symmetries feel fresh and exciting to viewers, rather than being their first impression of my work. I'd like for my designs to be recognizable and aesthetic even outside of the tessellated context. You can see these designs, and purchase prints or products featuring them, at my Etsy shop called "TiledWild". Show more...
They are done digitally and I have sold a couple as large printouts on a canvas roll. They were secured to a wall like a large patterned quilt.
The above is summarized from an imagekind post. Any contact information would be greatly appreciated — please send an email to [email protected].
DB Sullivan is an artist, poet, and web designer. His website (archived) shows 15 tessellations, as well as detailed drawings with reflection, refraction, and perspective, and nursery rhymes for grown-ups.
(The above is summarized from his website.)
I am an illustrator and designer from Düsseldorf, Germany. In 1966 I was born in Switzerland and my talent for drawing was given to me as a gift in my cradle, so studying illustration in Strasbourg (France) and Offenbach (Germany) was an obvious choice.
My enthusiasm for M. C. Escher was sparked in my youth on forays through my parents' bookshelves. At that time I came across an illustrated book by the exceptional artist whose "impossible figures", optical illusions, and mysterious metamorphoses fascinated me deeply. Inspired by Escher's work, I began to develop my own tessellations thirty years ago.
It is important to me that viewers can recognize my figures by simple outline rather than relying on surface details. This demand has enabled me over the years to market some tessellations industrially, and so my passion also became a business. Over time I started to combine my tessellations with a story, and illustratively present them as a picture.
On my specially created Instagram account I regularly post my latest works, and I look forward to your visit!
Sakuramederu is my pen name ("I love cherry blossoms"). I was born in 1960 in Tokyo, Japan, and studied economics at university.
I'm an amateur artist, since I've never earned money from tessellation art until now. I use paper and pencil, and go back and forth to Photoshop.
My first policy is to make figures that are recognizable by shape, without adding detail inside the tiles.
My second policy is to start with a realistic figure and modify the outline so it tessellates, rather than starting with a plain polygon and deforming it to find a figure.
Please see these explanations of how I work.